Member of:
Willamette Writers
Sisters in Crime
Friends of Mystery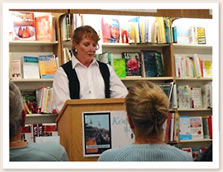 Linda Kuhlmann grew up in Illinois and moved to Oregon over thirty years ago. She has been writing most of her life, but her fiction always took a back seat to her job as a Systems Analyst. During her work, she wrote training materials for the various computer software classes she taught.
After retirement from her day job in 2004, she began her new career as an author. Her first novel, Koenig's Wonder, was published in October, 2004. Since it is a 'Triple Crown' sort of story, Linda plans to write two sequels. Following its publication, Linda concentrated on marketing her novel, as well as writing a screenplay and working on a second novel.
The Red Boots, released in 2011, began life as a screenplay and has since been rewritten into a novel. However, Linda still thinks of the story as a movie in her head.
In marketing her work, Linda enjoys speaking to groups of writers about her experiences. She is participating in a 'Job Shadow' program with local students who have an interest in writing as a career, and she's held numerous readings and signings throughout Oregon and across the nation.
Contact Linda Kuhlmann.
THEATRE BIO
Linda Kuhlmann's career in theatre began in high school when she was asked to help with props and makeup for the production of South Pacific. She's been in love with the theatre ever since. In a production of Funny Girl at Gallery Theatre, she acted in five different roles: Emma, Fanny's maid, a dancer named Bubbles, a Keeney chorus girl, and a Ziegfeld girl. Since then, she has worked with sets and props in numerous plays, and was asked to be Assistant Director for a production of Little Women. She has written stage and screen plays and taught classes on adapting short stories to one-act plays. Her favorite one-act play is titled Last Treasure Hunt, which was inspired by her two great-aunts.